On behalf of ESMIMET project, researchers from CARTIF attend the meeting organized by the Remix project: Smart and Green Minning Regions of the European Union (EU Smart and Sustainable Mineral Regions), which took place yesterday at the Business Solutions Center of Arroyo de la Encomienda in Valladolid.
The regional representation of Economy and Finance, Pilar del Olmo, opened the day emphasizing the need to develop an action plan to make compatible the protection of the environment with the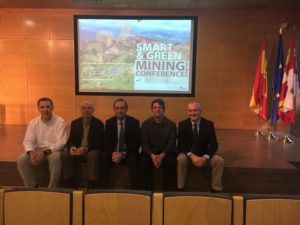 exploitation of mineral resources.
The consortium of the ESMIMET project is working in this direction, which favors the development of regional and joint activities and projects and initiatives of high added value in different R & D & I subjects for the study of the mining potential of Castilla y León and Portugal.
Del Olmo stressed the importance of working the part of the social conscience in this type of projects, because the sector represents, in her opinion, an alternative that 'can be perfectly sustainable, compatible with the environment and that can create many jobs' .
She explained that Europe supports these initiatives in order to avoid the shortage of minerals, because in Europe there are 41 critical materials. "We can not always depend on others countries, Castilla y León works to strengthen this sector and even grow," she said.