The CARTIF researchers who are part of the ESMIMET project team participated on November 28 and 29 in the fourth scientific seminar organized by the Association of Mining, Mineral Processing and Extractive Metallurgy (PROMETIA), presenting this initiative financed by the EU and detailing what actions are being taken.
The objective of this project is to make the most of the mining resources of the northern and central areas of Portugal and Castilla y León, with the aim of designing a common strategy.
The event, which was held in Barcelona, brought together many experts from the metallurgy sector who discussed issues related to the production process of different metals and associated developments, such as online monitoring, on-line analysis, process simulation, etc.
CARTIF is a member of PROMETIA and coordinator of the ESMIMET project.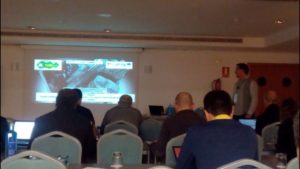 Pedro Acebes (CARTIF), presenting ESMIMET project