Researchers from ESMIMET project take part in the event about European projects, good practices and action plan in mining sector, in the facilities of ICE in Castilla y León. This meeting is the second part of the REMIX first meeting, celebrated last December 22nd.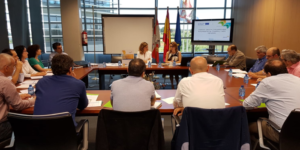 The main goal of this second event is to inform about the achieved advances in REMIX project until now, to show the good practices in which the consortium is working on, and to discuss about the situation of mining sector.
REMIX project pretends to bring European regions with mines in operation together in order to, based on the exchange of good practices and knowledge, the production of raw materials can be promoted in an efficient and ecologically acceptable way, as well as facilitating access to innovation and sustainability in the sector.